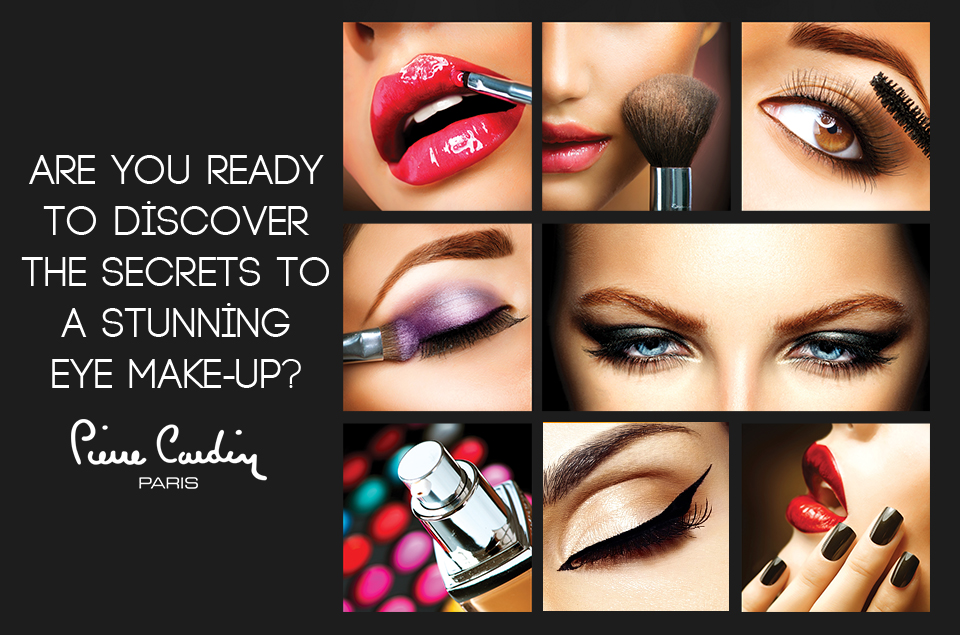 Perfect Skin, Flawless Appearance
The most important part of an elegant and perfect make-up is undoubtedly the skin make-up...
All the secrets you need to attain a clear and flawless appearance is with you with Pierre Cardin Cosmetics.
First and most important step of a smooth appearance is skin make-up. Make-up products, which are high-class, fitting to your skin type and skin color, provide smoothness on your skin and prepare it for make-up.
Effects of a skin make-up that presents your skin in a glowing fashion on the expression is undeniable.
There are of course many ways to make skin appear glowing...
First of all; A clean and moist skin is the first step to achieve a successful result in skin make-up. Afterwards you can start applying Pierre Cardin Make-Up products that are fitting to your skin tone and your desired make-up.
You can shape your face with Pierre Cardin Selfie Ready Powder, have a livelier appearance by coloring with Pierre Cardin Blush-On, have it glowing with Pierre Cardin Highlighter and apply contour and strobing techniques with Pierre Cardin Terracotta Highlighter and Pierre Cardin Terracotta Bronzer.
Get ready to dazzle with your glow with the help of Pierre Cardin Cosmetic products!
For Hypnotic Eyes
Enchanting and deep eyes, an eye make-up that will be fresh all-day long...
The most important and hardest part of a make-up is eye make-up. Known as the windows of the soul, the eyes take effort to put make-up on.
Alongside the colors and lines, choosing the correct and high-class products is also very important when it comes to the effort not to be in vain at the later hours of the day.
Eye and eyebrow products of Pierre Cardin Cosmetics will help you greatly in attaining enchanting eyes... You just decide what effect you would like your eyes to have... Bigger eyes? Mysterious looks? Smoky touches?
Factors such as hour of the day, our destination, our outfit, our mood influences our make-up style. When putting on the make-up fitting of this change, the distinctive point is the eye make-up.
Let's check the eye make-up techniques if you will.
1. Vertical Eye Make-up Technique
This make-up technique is suitable for narrow or medium eyes. Because it makes them appear larger. It's an eye make-up technique which you can both use during daytime and nighttime. Just be careful when choosing the color for your eye make-up. Simpler colors should be used for daytime looks. Do not shy away using opposite colors for nighttime looks. A simple rule, the darkest shade should be applied to eye's outer corner.
2. Horizontal Eye Make-up Technique
This make-up application is a heaven-sent technique for women who has round and protruding eyes. As can be seen from its name, eye shadow is applied horizontally and shaded. This way eyes stay in an almond shape longer. You can use contouring pen or thin eyeliner to draw the contour of the eyelash line.
3. Classical(Mixed) Eye Make-up Technique
For the classical (mixed) eye make-up techniques, you need to apply vertical or horizontal eye shadows. A typical color tone is used for classical eye make-up.
4. Eyeliner Make-up Technique
Eyeliner make-up technique can help correcting the shape of almost all eyes. In accordance with its features, create a contour line to your lower and upper eyelids and carefully shade them. This application will help align the eye lines. The shading brush you use must be straight and sturdy.
5. Smoky Eyes
Since the main purpose of this make-up technique is to create an excellent smoky eyes effect, you need to be especially careful to create a soft transition from one color tone to the other. Classical smoky eye make-up can be used both during daytime and nighttime. However, it's better to use warm natural colors for nighttime and better to use a neutral toned lipstick to avoid having an extravagant smoky eye make-up.
Pierre Cardin Cosmetic, eye and eyebrow make-up products are the signature of strong eyes!
Magic Touches For Lips
The secret of an enchanting lip make-up is at Pierre Cardin Cosmetic.
Lip liners, correct tones, vivid and intense colors...
You can make your lips appear perfect!
If you want to have a perfect lip make-up, first of all you need to take care of your lips so that they are not dried and chapped.
Before beginning to apply lipstick, you should use a lip liner no matter how light of a make-up you are putting on. At this point, you can use products from Lipliner series of Pierre Cardin Make-Up. A correctly applied lip liner does not cost the make-up of its natural appearance. On the contrary, it increases the durability of lipstick.
For the more effective use of Pierre Cardin Lipliner products;
You can draw the lines above your lips if your they are thin.
Having a blunter tip on your lip liner will create a softer effect.
You should not use a darker tone lipliner than the tone of your lipstick in your every-day make-up.
You must be attentive of your lipstick's fit with your make up and your destination. For example, if you used an earth colored eye shadow, you should use a brown toned lipstick instead of pink or red.
Transforming make-up into art, fire up your make-up style with Lipliner Series of Pierre Cardin Cosmetic Make-up products.