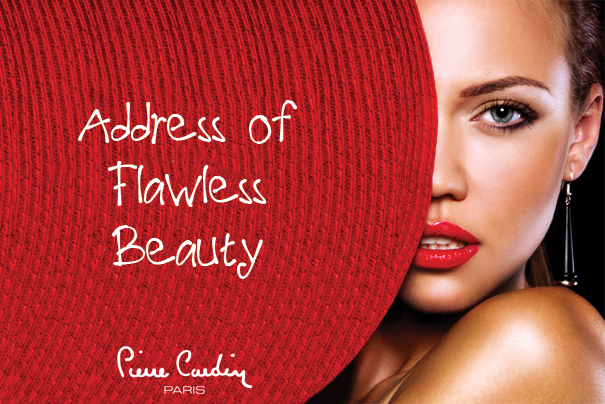 Address of Flawless Beauty
Now, it is very easy to attain your ideal looks with Pierre Cardin Make-up products!
Make-up is undoubtedly the most important component of our beauty. We put on make-up to feel better even when we are slightly demoralized.
Make-up varies in accordance with our destination and our outfit. With the correct make-up, your energy and even your looks change. Putting on make-up is not a hard thing to do, even though it requires a little bit of technique. You will get to know yourselves by putting on make-up and attain your best looks by using products and colors that fit your skin.
Just to give a few tips about make-up;
If you have a darker skin, you should avoid using darker colors in your make-up and lean towards fairer and lighter make-up types. Dark-skinned women should look at the foundation they are trying under sunlight and then decide because in an indoor area the foundation may appear as a different color than it would appear under the sun. Also, your face powder should be pulverulent and transparent toned. While accentuating your eyes you can use purple or navy blue colored mascara. Eyeliner also suits dark-skinned women very well. If you are to use eye shadow and you are fond of simplicity you can choose gray, brown and natural tones.

Fair-skinned women can apply make-up that will present their skin in a livelier fashion. Dark colored eyelashes fit better to fair-skinned women. And for your eyes, you can go with brown or black mascara. For eyeliner, you can use a light colored or a transparent one. Fair-skinned women should also stay away from dark toned lipsticks.

Since medium toned skin is not a very sharp and fringe skin, a softer make-up can be applied. In order to preserve the color balance of your face you can use a light blush that is peach toned. When using lipstick, it would be ideal for you to pick pink tones. The proper colors that will present your lips livelier are light pink and tomato red. You can also use lip liner alongside lipstick. In order to balance the color of your face, you can use light pink and violet-pink blush. And women who want to use eye shadow may use the colors; purple, green, gray and light brown.

Order of make-up is very important, and it should not be overlooked that a make-up put on without an order will always look sloppy.

First, you need to prepare your skin for make-up. For that, using a moisturizer or make-up base would be the correct start. Make-up should always be put on from the top of the face and respectively moving down further. This is the technical order. In order to attain a glowing appearance, you can apply foundation, BB or CC cream and you can complete your look with under-eye concealer. After that step you can move on to eye make-up and apply it by respectively using the fitting eye shadow, eyeliner and mascara. After your eye make-up is finished you can color your skin by respectively using blush and lipstick and finish the base lines of your make-up.
When putting on your every-day make-up, prefer simple tones that are not extravagant. This way, you will attain perfect look without diverging from your natural look. You will improve your beauty further with Pierre Cardin Cosmetic Make-up products.