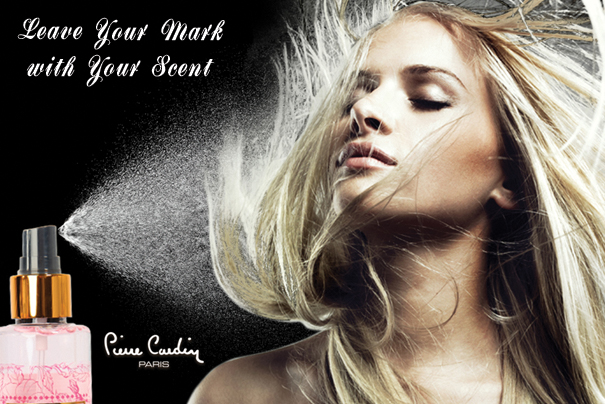 Leave Your Mark with Your Scent
Captivate your surroundings with your Lovely scent from Pierre Cardin Cosmetic.
There are different aspects of each fragrance that evokes in each person. Everything can be forgotten, but not the scent. Being well-groom does not mean just looking good. How you smell is as important as how you look.
Just as each dress would not be fitting everyone the same, each fragrance should not be worn on every skin. When the right skin is matched with the right fragrance, the effects will be spectacular.
For example, spicy fragrances better suit dark-skinned people. Fruity scents' most used components are peach, orange, tangerine and lemon. These fragrances are ideal for the summer. Oriental scents contain, vanilla, musk and amber. It would be better to prefer these kinds of fragrances for night-times. Scent of lavender has a relaxing effect. It is a known fact that lavender-flavored shower gels promote a relaxing sensation in the shower.
Fragrances vary in regard to each skin. Blondes should prefer flowery and fruity scents and brunettes should prefer spicy scents. Brown-haired people have wider options when it comes to choosing a fragrance.
Fragrances vary in regard to each season as well. In the winter, sugary, vanilla flavored and spicy fragrances stand out. In summer however, lighter, flowery and fruity fragrances should be preferred.
Just as our own scent, our surrounding's scent also effects our productivity and mood in every-day life. A home, a car, an office which has a nice scent, will have a positive impact in our happiness. Experts explain that; sense of smell influences %75 of our daily emotions and plays an important role on our memory. A nice scent invigorates people. Some scents have a relaxing effect, and some have a pleasing effect. We do not want to spend much time with people who do not pay much attention to his/her personal care and we do not want to go back to a place of which we did not like the scent.
You will greatly improve your allure with mysterious nature's harmonic notes that Pierre Cardin Cosmetic's possess.
Wouldn't you like to leave a mark with Pierre Cardin's one of a kind fragrances?